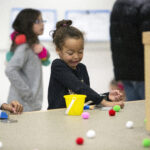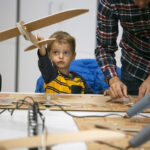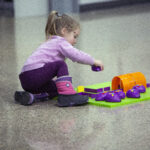 St. Vrain elementary families are invited to explore STEAM at the Innovation Center's STEAM Carnival Night. STEAM stands for Science, Technology, Engineering, Arts, Math and is happening across St. Vrain Valley Schools.
The event will take place on Wednesday, November 30 and Thursday, December 1 from 4:00-7:00 pm at the Innovation Center of St. Vrain Valley Schools.
STEAM Carnival Night is a great way for PK-5 students to explore a variety of educational offerings including coding, robotics, videography, design, aeronautics, cybersecurity, and much more! All activities are hands-on and planned and run by Innovation Center student designers.
Additionally, the IC Tech Team will be offering Tech Talks on the different tech tools used across St. Vrain Valley Schools, such as Schoology, SeeSaw, and Infinite Campus.
This event is possible through a donation from Seagate Technology. For more information, please contact STEM Education Program Manager Kristen Brohm ([email protected]) or Executive Director of Innovation Axel Reitzig ([email protected]).